Infected by Art 8 Timeline and Jury Announcement
Posted On: 8/27/2019 3:02:00 PM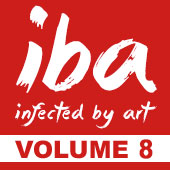 IBA 8 Timeline:
Submission Period: September 5, 2019 through midnight EST December 7, 2019
Jury Voting: December 12, 2019 through January 17, 2020
We're looking for the very best in contemporary imaginative realism, with artworks being judged from four main categories - Traditional Painting, Digital Painting, Drawing and Sculpture. We offer cash prizes, as well as publication in our upcoming Compilation art book - Infected by Art Volume 8. The best images voted on by our esteemed jury will be selected for the book. While our jury deliberates on the artworks after the submission period ends, all submissions will be available for viewing by our site visitors to enjoy. The competition is open to all artists, and submissions should be created within the last 2 years.
Our Entry fee has increased by $2 per entry this year - now at $12 per entry with a maximum of 10 entries - and the 5th and 10th entry are still free as always. This was a very difficult decision for us since in a perfect world we would not be charging anything for entering artworks into our competition. Unfortunately the current situation with tariffs for Chinese imports has us in a bind and we don't have much choice. We are deliberating options for the future to help offset our production costs so that an increase in our entry fees wont be necessary again.
IBA 8 Jury Panel:
Dan Chudzinski - With a command of techniques rivaled only by his diverse interests, Dan Chudzinski's quest to improve his artistic skillset has led to a host of unusual adventures. Throughout various chapters of his life, he has worked as a zoo taxidermist, apprenticed under master marble carvers in the mountains of Northern Italy... MORE
Annie Stegg Gerard - Annie Stegg has always loved to paint. Her art career began at 7 years old, when she had first art show at her school. Since then she has never stopped painting and has worked for clients across the world. MORE
Justin Gerard - From the moment that Justin Gerard first learned that the crayons were meant for coloring and not for eating, he has been drawing.

He began painting later in life after he found a Step-by-Step Graphics guide on Peter de Sève. Armed with this and inspiration from the works of Arthur Rackham and the Golden Age illustrators...

MORE
Don Maitz - International acclaim surrounds imaginative paintings by Don Maitz. He created the Captain Morgan Spiced Rum character, provided conceptual art for two animated feature films, and covers for over 250 books. National Geographic, The History Channel, and three illustrated editions by Stephen King have presented his work. MORE
Stephan Martiniere

-

Stephan Martiniere is a multi-international award winning artist. In 2012 Martiniere was voted one of the 50 Most Inspirational Artists by Imagine FX Magazine. His body of work has come to be recognized by artists and designers across the globe. His work not only holds an astounding uniqueness of vision...

MORE
They will select the images for publication in IBA 8, and pick the top artworks for Cash prizes.
IBA 7 has been safely delivered to the printer and is currently on the press being printed. Our experience with new publisher Jon Schinehette of
ArtOrder LLC
was nothing short of fantastic once again, and we cannot wait to show off Infected by Art Volume 7 at IX 2019 this October. Pre-Orders for IBA 7 begin tomorrow!
About Infected by Art
Infected By Art connects Artists to a Global Audience through our On-line Art Competitions, our Compilation Art Book, and On-line Artist's Galleries. Competitions we host - like our Compilation Art Book - are open to professional and emerging artists from all over the world.
About ArtOrder
Publishes and distributes award-winning books and table top games that showcase the talents of creatives, offer innovative user experiences, and have stellar production values.
About IX Arts
IX Arts is the organization behind a range of projects designed to enhance popular and critical appreciation of contemporary imaginative realism. Initially founded as the home of the annual IX show, since 2008 IX Arts has branched out into other areas, including museum and gallery exhibitions, books, and the upcoming online IX Gallery - the world's only gallery exclusively dedicated to imaginative realism.
Comments